There used to be a time when you could strike out into the vast unexplored wilderness and stake your claim – but not anymore. Today, the story of one seaside town where one homeowner is facing a brutal property dispute against an undefeatable opponent: the Atlantic Ocean.
Plus, a group of 19th century pioneers lay claim to one of the world's most inhospitable mountains and turn it into a premiere tourist destination.
And, Sam goes on a hunt for Earth's last unexplored places, so he can plant a flag and stake his claim.
Listen to the full episode:
Fortify, Accommodate, Relocate
Nahant, Massachusetts is a rocky crescent moon of land out in the Atlantic Ocean just north of Boston. It has a long history of being at the mercy of the ocean, and the people who live there are looking at an uncertain future. The seas are rising, and no one can say how long many homes by the water will be safe.
Take a tour of Nahant and read about the challenges the town faces as the seas rise.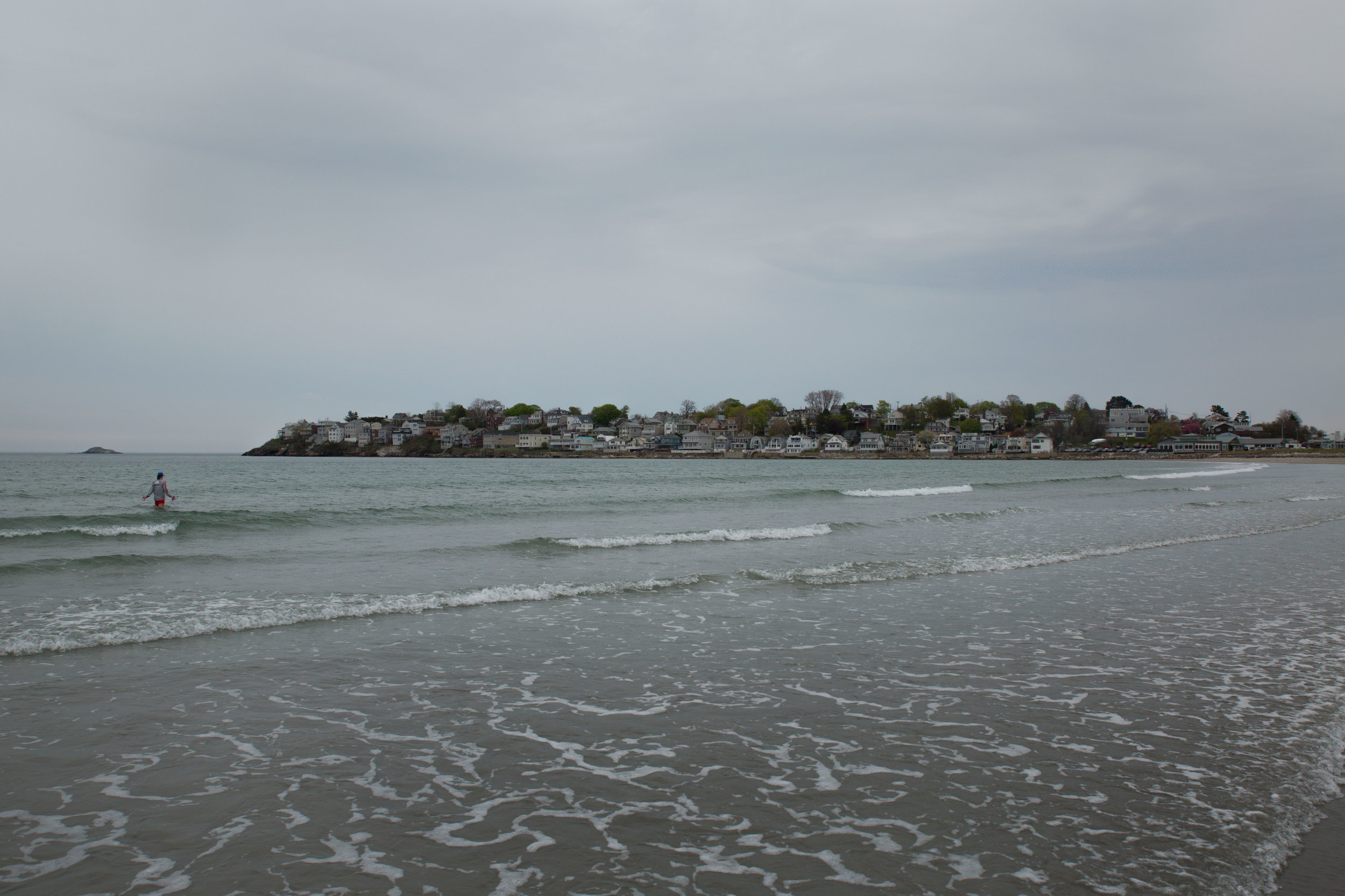 The Hotels of Mt. Washington
Mount Washington is famously home of "The World's Worst Weather", but it also hosts a huge amount of tourist infrastructure.
Senior producer Taylor Quimby brings us this tale of how the mountain was conquered, and how that process became the template for mountain tourism nation-wide.
Voices From Mount Washington
As part of our research for this story, we went to the New Hampshire Historical Society in Concord to check out the Summit House Guest Register from 1854 - an incredible document where early tourists would sign their names and often leave short poems or comments about their stay on Mt. Washington. What's really fascinating is the diversity of reactions and writing styles contained in the guest register - everything from dreary verse about bad weather, to religious expressions of praise for the mountain, and the view. We mocked up some playful recordings of the more colorful entries.
Here's an excerpt from one by Mary Huntington, who visited the summit on July 17th, 1854. We think it sounds a little bit like a slam poem:
Space! Thous art pure and boundless expanse
For golden globes to make their mountains in;
Room, where all bodies mentioned may begin;
Where planets wheel along in mary [sic] dance
And comets voyage on in wild careers
Here is another from August 20th of the same year. We're not sure about the author on this one, but it sounds a little bit like an Edgar Allen Poe poem, or maybe a drinking song:
For Four long hours we toiled our way
The setting sun to see
Sulky and glum the event to be
Sulky and glum went we.
We built our cairn then slept our way
Until the night should flee
Sulky and glum he rose again
Sulky and glum rose we.
On August 15th, 1854, a man from Philadelphia named W.N. Conckle penned a frightening account of his near-death experience on the summit, as he climbed through a terrific August storm. Here's just a bit:
Three quarters of the way up I was compelled to lay behind some rocks to [illegible] from the penetrating, impetuous whirlwind. A shower of rain now succeeded & [illegible] with the increasing darkness gave birth to a thought of death which death would only alleviate. Still I ascended slowly & despondently and my agitated thoughts would rage within me equally as impetuous as the storming whirlwind around me. A terrific gale now climaxed the increasing wildness of the storm. The wind roared and sang my dirge among the angry looking rocks around my very feet. The fog was my funeral pall and the slanting cutting rain was my shroud, and my mourners were deep [illegible] among the mountain glens. I yet remained to die.
And finally, excerpts from two entries that appear back to back in the register - one a glowing appraisal of them mountain's breathtaking scale, and another somewhat less enthusiastic review:
August 27, 1854
Mount Washington; A specimen of the magnificence of God's works. It is an impressive symbol of the unchangeable power and glory of the Creator… To come here just to say that you have been to the top of Mt. Washington shows a vain and frivolous mind.
September 6, 1854
Be Japers I'd as soon sleep in a swamp! And when one gits up at morning' his clothes hang about 'im like a woman's gown with no skirts. Och, bad luck to it! If iver I am the bottom again, may the divil shweep me if I climb these rocks another time!
The Weather on top of Mount Washington is still pretty epic as evidenced by this video taken at the top on May 16th, 2016.
Is Staking a Claim Still Possible?
The world is pretty full up...which got us to wondering: is there anyplace left on earth, or beyond, where you can just claim something as your own?
The answer is yes... but once you hear how, you might not be so excited to give it a try.
Outside/In was produced this week by:
Sam Evans-Brown, Maureen McMurray, Taylor Quimby, Logan Shannon & Molly Donahue
Theme music by Breakmaster Cylinder
Photos of Sam are by Greta Rybus unless otherwise noted.